Among both fans and casual consumers of horror, it's not uncommon to hear "Horror movies just ain't scary no more." On social media, one can often find posts from people asking for recommendations of THE movie that will finally and truly scare them.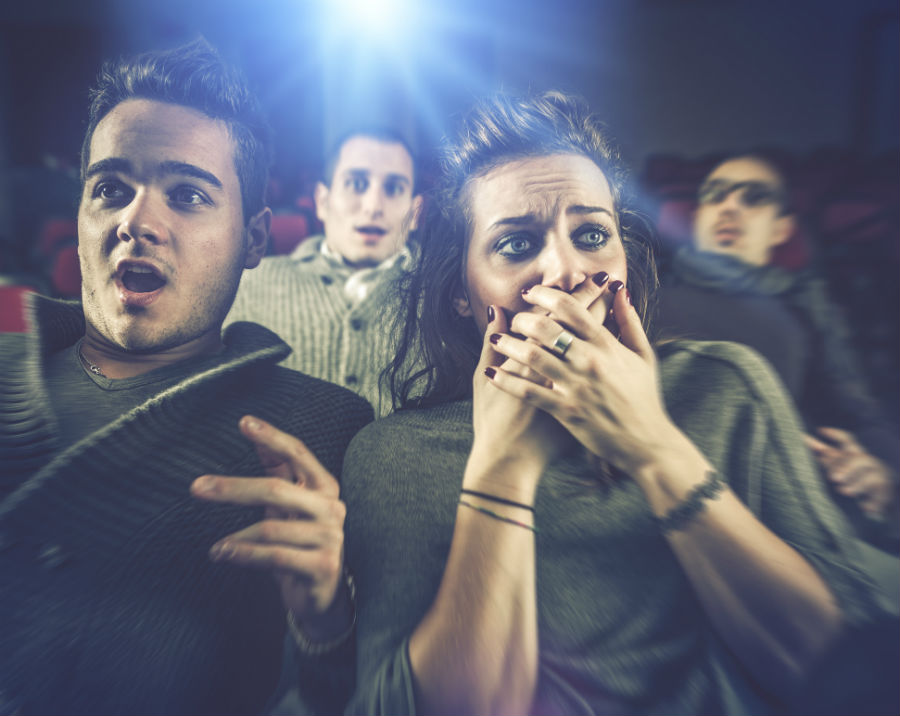 Let's rewind to 1925.  THE LOST WORLD, based on Artie C Doyle's smash adventure novel of dinosaurs running amuck in London.  The prehistoric beasts were realized via the stop-motion animation technique pioneered by Willis O'Brien, who would go on to do the same for a little film called KING KONG.
All right, back to modern day, and me sitting down in my officially licensed Freddy jammies  to watch INSIDIOUS: THE LAST KEY on blu-ray. I know, I know, that movie is effing five years old. I have a really long Netflix qeue, okay?

Many DVDs and blu-rays place some sort of leader; advertising and whatnot, at the very beginning of the disk and format it in such a way that you cannot bypass it and go to the menu until the leader has run its course. In this case, oddly, it was the disk's special features. This header, in its scant few seconds, was filled with behind-the-scenes stuff; snippets of incomplete FX shots, actors, in costume, touting the film. 
If you can immerse yourself into the narrative after something like that, I envy you.
I stopped the DVD, took it out and sealed it to send back, unwatched.
If you go to a magic act and sneak backstage, you get to see how the showman performed all his tricks, and hell, you may enjoy that. But in my eyes, you've compromised of your privilege to be dazzled by something that most of your mind tells you is impossible; and you've damn sure compromised your right to complain that the showman failed to fool you. 
With set visits, on-set interviews and making-of-featurettes, the film realm becomes a little more pedestrian, a lot more mechanical, and in the case of horror — not scary.

Now I've worked in the film industry and had my peak behind the curtain. But I have a powerful imagination and a "fantasy-based" thought process, they tell me. I can still immerse myself in a good story fairly well, even at my advanced age. But, good lord, I don't try to have my corpse and eat it too. If I have worked on a movie, I will never see that movie in the same wondrous light as the casual viewer. 
To use a Texas Chainsaw Massacre-inspired analogy, I submit to you, viewer of horror films, that you might soon stop eating beef if you see it prepared from stable to table.
FANGORIA – you shoulder a lot of the blame. To a degree, so do your forebears FAMOUS MONSTERS and MONSTER WORLD — for your loving worship of FX geniuses and your technical-jargon filled interviews with directors and makeup men.  Yes, they deserve their acclaim. But do we really need detailed breakdowns? I love Tom Savini's work — but I can appreciate him, and his FX, without knowing how he does it.
Aaand another thing…
Network television. To maintain their share of the screen-loving public they now have to keep something interesting happening in every single frame. No more time for slow-burn, long term storytelling. Don't believe me? I dare you to screen Robert Eggers' near-perfect art film THE VVITCH for your nearest 22-year-old. Eleven times outta thirteen, they'll say it sucks.
Then there are commercials. The CGI invasion, for better and worse, has spread its weightless digital tendrils across every form of visual entertainment. Even the covers of your horror novels are mostly composed digitally. Sure, that's fine. But when a hyper-realistic dragon pops up to tout mouthwash for ten seconds, the one on any of SyFy's four hundred Event Movies of The Week doesn't seem so special anymore, especially considering the FX in it are probably sub-par by comparison.
If you want to get scared these days, whether by a movie, a videogame or a book, maybe it wouldn't hurt to meet the creators halfway. My longtime friend Johnny Huskey, rest his black soul, offered the perfect scenario for the jaded scare seeker. I now share it with you. And frankly, I doubt you'll have the nads to go through with it…

Sit by yourself in the dark, perhaps on a windy night, with your back to the door — which you've left open. Slip THE EXORCIST or HALLOWEEN or any of the clas-sicks into the tray. Don't dull the edge with booze or weed or even a chum. Hell, leave the remote control in another room.
Let me know how you do.
---
---
---
---
---
---
---
---
---
---
---
---
---
---
---
---
---