A few days ago, I posted this pic…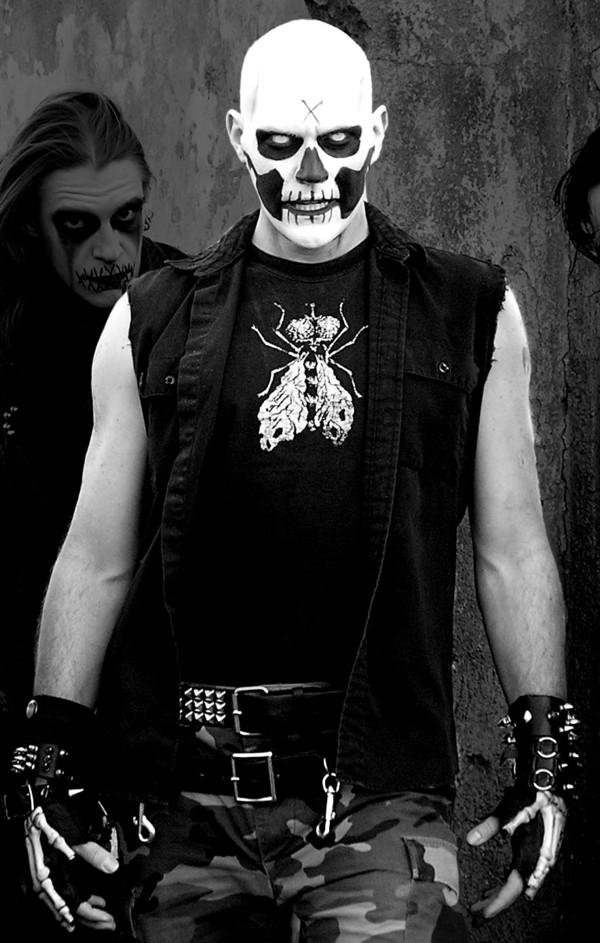 That's Order of The Fly vocalist J'Syn Thetic (At least I think it's him. The band has two vocalists and there's so little information about them online there's no way to confirm which is who) on my Facebook page, just because I thought it was great shot. A friend commented that, in his experience, this is someone trying to compensate for something. As someone who loves punk rock and considers himself, at least to a degree, a punker, I recognized this as dismissiveness– but found I was able to consider it without the bristling reaction it might once have raised.
 It's true, after all, isn't it? One doesn't become inspired to embrace punk, metal, or horror culture after viewing their trust fund statement, or because of the strong sense of belonging and fellowship they get at church. Punk speaks to and about those of us who feel rejected. The compensation for our lack of social approval is a deeper. more sincere acceptance from our fucked-up peers. My friend's comment proved that The Order of the Fly is successful in establishing their horror punk cred right out of the gate. 
Now a lot — in fact, most — horror punk outfits bring some degree of theatricality to their presentation, often with tongue planted deeply in cheek.  With OOTF, it's different. The B-movie trappings are there — but it's damn clear that the hardcore attitude is dead serious. The horror-themed dressing is not there just to celebrate horror. It doubles as a reminder that punk rock is about crashing comfort zones and blasting unpleasant realizations into the heads of the complacent.
As I said, there's not a lot out there about this San Bernardino-based six-piece. With only a sparse Facebook page (The Order Of The Fly | Facebook) and a bare bones bio on Spotify, they stand as a mystery in a genre that mostly lives and dies by word of mouth.  This is their third release, one of several EPs from the Cali punks. Punk songs are usually brief already, so this is a breezy blast of hardcore, not intended for introspective listening. I like it as a workout or wakeup soundtrack.
The title track…
The Order of the Fly @ The Juke Joint 5/22/09 "Lambs in the Abbatoir" – YouTube
…seems like an odd choice to kick off the album. It's almost subdued in comparison to the album specifically and the band in general, as they definitely land on the more brutal side of the horror punk spectrum. Singer Thetic has never demonstrated great range so this more introspective approach doesn't initially mesh well with the band's sometimes clumsy songwriting. Pure punk passion is their strength, and it jumps out to grab us by the throat in the second track "Vampire Killers." 
Nothing too deep here, just a fun anthem sung from the perspective of vampire hunters, instead of vampires themselves, for a change. Pounding riffs and a blood-curdling screech propel us into the mind of a guy who loves his job and hates his targets. 
Track 3 starts with some moody, retro-synth work. Of course, the guitars kick in like a gasoline explosion, but that's what we want and expect, right? Then we get a hard-driving piece about… well see if you can guess:

"I'm so hungry and this
Feeling never goes away
Sink my teeth into your
Dearly departed loved ones"
This one, called "Eaters of the Dead," is another new twist on horror rock themes. There are plenty of tunes about zombies and cannibals, but I know of only a handful that discuss corpse consumption.
Finally, we get a nice hard cover of Alice Cooper's "Who Do You Think We Are?" that repeats the same general theme (again, no complaints.) Honestly, I prefer this far and above the original, which comes off as dated and even subdued by comparision. Love ya, Coop, but these guys have schooled you on this occasion.
That wraps up a quick and vicious dose of blistering, furious audio violence from a very underrated band whose entire catalog I am now determined to hear. Lambs is fast and fun horror punk that doesn't mind treating the subject matter like it's dead serious, versus the inherent cheekiness of most horror rock. There is what I guess is some autotune but it's the eerie robotic kind, not the silly poppy type.
Guaranteed ear maggots. Give it a listen.