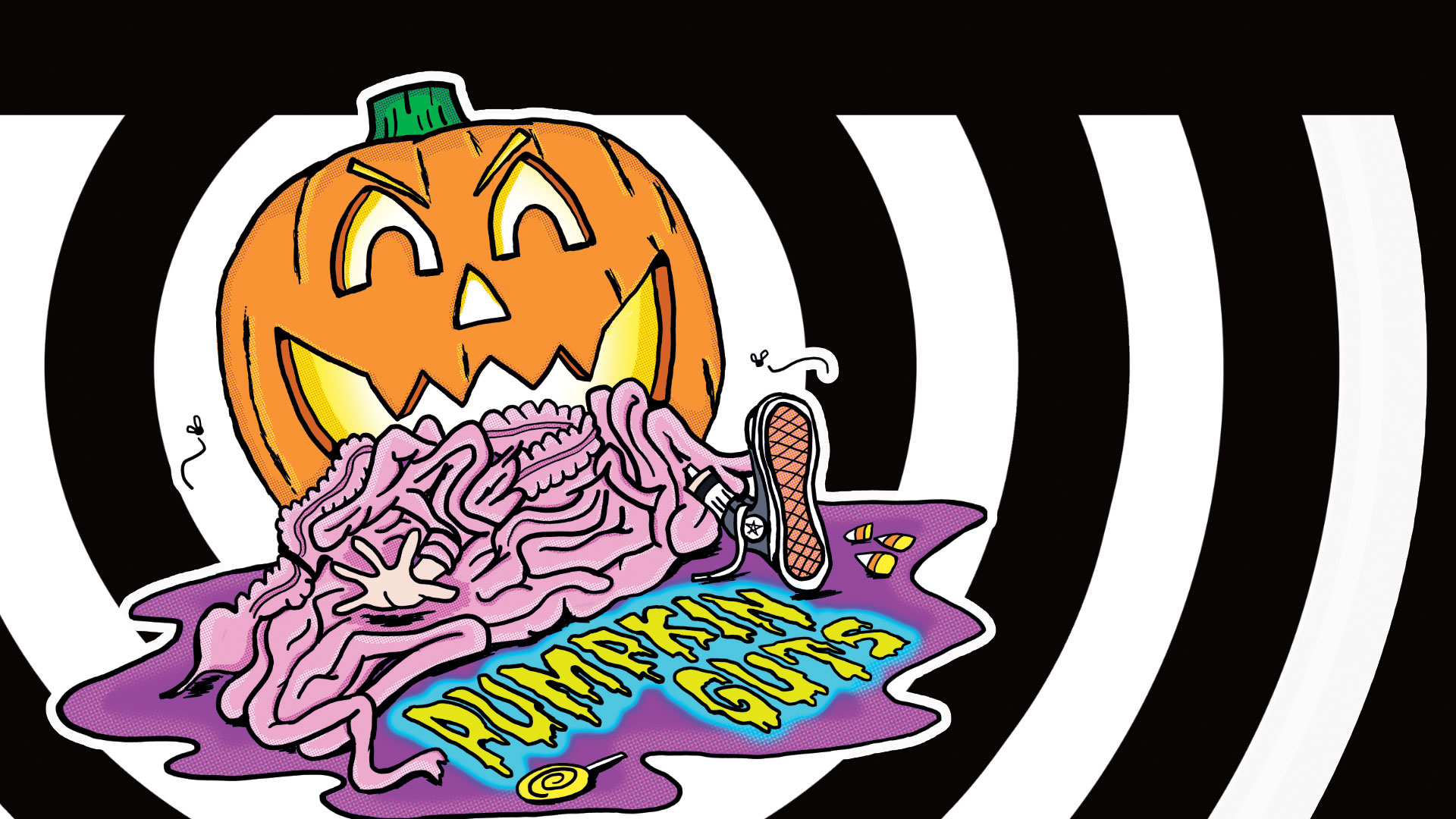 The Tomb Tones Pumpkin Guts EP
When I was around ten years old, I always combed through the entertainment section of every bookstore I encountered for anything I could find about monster movies. One day I ran across a glossy tome called Fifty Worst Films of All Time by Harry Medved, whom I would come to learn was a film critic of the snootiest stripe, and Randy Dreyfuss. It was loaded with pictures, so of course I coughed up my allowance, badgered my mom for the difference, and bought the damn thing.
Tops my list of Fifty Worst Books of All Time.

This was just before the dawn of the inexpensive VCR, so those nifty black and white photos from movies I figured I would never see allowed me to imagine the thrills and the feel of those old movies. One of the flicks shat upon by Medved and Dreyfuss was Horror of Party Beach from 1964; the height I guess, of the surf/bikini/musical subgenre that included such fare as Bikini Beach, Beach Blanket Bingo and Beacher of The Black Lagoon. …Okay, not that last one.

Being a nerd, I didn't just look at the pictures. I read the text as well. This may have been my introduction to the cynicism many adults hold regarding any entertainment not grounded in reality. The authors treated this movie and the other 49 like worthless embarrassments. But to me — The Horror of Party Beach sounded like a good time. If anything, my interest and appreciation for "camp" and "cheesy" entertainment culture was amplified by that book. And what's more punk rock than that? Only safety pins.
Dare you to remake THIS, Hollywood hacks. 

The first track on Pumpkin Guts, the debut EP from Atlanta's The Tomb Tones, twists the title into "Party of Horror Beach" but retains the whimsy of that beleaguered film. It starts with an almost sinister riff that reminded me of Danzig's "Bringer of Death" but the fun promised by the title soon arrives via the whimsical vocals of Kyle Ransom King, whose style is similar to that of Fred Schneider, co-vocalist and percussionist Tomb Tones' state mates the B-52s, whom their bio cites as an influence. Now that dude knows how to deliver a good time. King is cut from a similar, if blacker bolt of cloth. "Party of Horror Beach" is a rollicking soiree' that I wish I could attend, but hardly the strongest track on the album.
With "Monster Movie," a couple of movies come to mind — Purple Rose of Cairo and The Last Action Hero, which share the premise of protagonist-finding-self-trapped-in-film. "Movie" tells a similar story in which our character expresses his lament at the terrifying dilemma, for the realm in which he finds himself caught, is an unspecified classic creature feature, and damn what a lively tune. Deep down, we all wish we could stumble into such a situation, no? Not the normies, of course, but then again — they ain't even reading this. 
"Monster Movie" Has me wondering just which monster movie I'd want to be trapped in, though, and for some reason, "Godzilla vs Gigan" seems like the most interesting -if least reasonable- choice by a longshot. Dodging around Children's Land watching THE Kaiju Clash of the Seventies, trying to avoid being crushed just seems like a real thrill; something you'd want to tell your grandkids about back in the boring ol' here and now.
"Okay you guys, extra points for whoever steps on the kid with the bad haircut."
"Dracula's Brother" kicks off with a scratchy sounding snippet from an old horror classic that I recognize but can't place. One of the Universal Dracula entries would be a reasonable bet. Duh. The acoustic chords here bring to mind Tiger Army and, I guess, Miguel and The Living Dead, both beloved genre mid-carders. It's as close to a mood piece as you will find on Pumpkin Guts. Play it to break the ice when you get that sweet little gothabilly cutie to your place for a nightcap, just before you switch over to Sisters of Mercy or whatever. 

The first few words of "Sick Sense" sound for all the world like something by Weird Al Yankovic (of whom I'm a fan by the way). Just as retro and campy as the rest, it nonetheless represents the most unique and musically interesting track of the album. It plays out as a descent into madness, but a kind of joyous and whimsical one. And why not?

"My Girlfriend's a Zombie" is a statement I have had occasion, for better or worse, to utter many times. The Tones express well the highs and lows of rotting romance, beginning with…
"It was a dark and stormy night
The thunder louder than the rain
I asked if everything was all right
That's when she tried to eat my brain!"
The tempo picks up from here, which might have been an opportunity to get heavy, but to be fair, they're more retro-rock than punk. Just as fun as the previous tracks but not especially a standout, if only because of its placement in the lineup.
Its intro eliciting the feel of an old-time low-rent carnival dark ride, "Devil's Train of Death" gives the EP a sharp spike and a rip-roaring end . Deep background vocal accompaniment, whatever you actually call that, adds a good deal more scare-sense than the rest of the album. Trains make for great imagery in horror media and King's lyrics use it to its full advantage. 
If I have an overall complaint, it's that there's a redundancy from track to track. But as a soundtrack for any Halloween party worth its candy corn, or a genre event band (here they are live at DragonCon:
The Tomb Tones at Dragon Con 2019 – YouTube
…they are a perfect fit .
I hope to catch these guys live one day, which is not something I say about even my favorite horror punkers. If you have cone or do see them, hit me up in the comments and let me know how it goes/went.