Here they are performing at the First (and last) Annual Snobbington Society For Youth Preservation Formal Cotillion.
This seven(ish) track EP titled Murder Party is the most recent release from Las Vegas's four-man Chainsaw Fight, whose brand of thrash might just be the hardest-hitting in the entire horror punk movement. 
If you caught 2007's throwback double feature film Grindhouse, you'll remember it was peppered with a handful of fake trailers meant to recall that drive-in/passion pit feel of exploitation's golden era. One of the most popular of these was called simply "DON'T!"
Don't – Grindhouse trailer – 1080p HD – Bing video
I'm certain this release's same-named kick-off song, a quick list of sketchy situational tropes to avoid, is at least partially inspired by that trailer, just as each track that follows is an ode to specifc clas-sick horror flicks. I can easily see it as said faux-film's closing credits song, and it only makes me pine harder for the real deal.
Track 2 is "It Floats," and if you're reading this you surely get the reference. frontman Walid Atshe's vocal style is more along the lines of very aggressive spoken word than singing, in the vein of Billy Milano from 80s hardcore outfits M.O.D. and S.O.D. I'd be surprised if all the band members weren't at least mildly influenced by Milano and company. Vic Moya's drums sound similar as well — at least to my old and uneducated ears. The boys fire this one right out of the shotgun with maximum velocity and it does not disappoint.
"I'm not crazy! I'm in control!" is a line uttered by the killer Doomhead, as brilliantly portrayed by Richard Brake in 31, Rob Zombie's unsubtle 2016 take on the oft-recycled Richard Connell short story The Most Dangerous Game. Forty seconds of rage. Maybe I'll figure our how to set it as my alarm.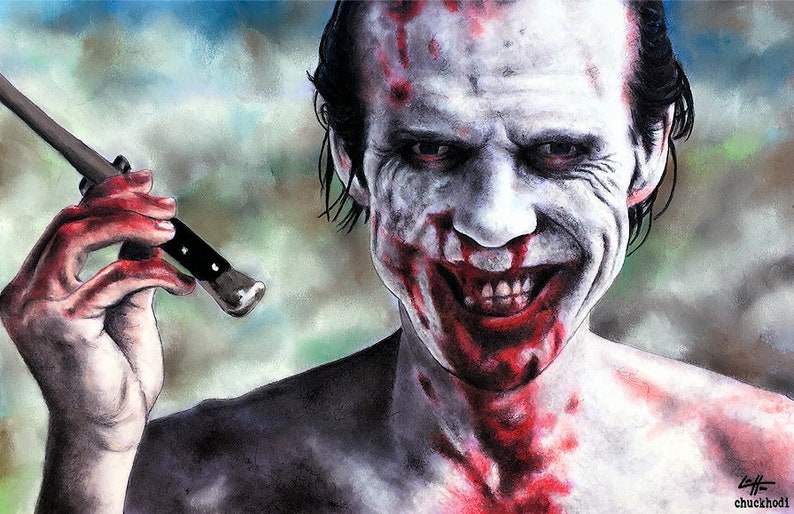 Just a smile and a knife, to brighten your day.
"Klaatu" is a deep cut — but not as deep as you might think if, like me, you grew up watching sci-fi and horror flicks on weekend TV. The term originated with the 1951 flick The Day The Earth StoodStill and was revived for 1992's Army of Darkness, as essayed by the one and only Bruce Campbell/Ash Williams (hell, they might as well be synonymous at this point) The tune tells the story and quotes the character with the band's signature brutality. There's a hard-pounding bridge during which Atshe further quote's Ash, adding considerable aggression to his interpretation. Someone should make one o' them funny vids with Atshe taped over Ash.

"The dead are rising from their graves!" declares the beginning of "Holy Shit," then I can't understand much of the rest. Another quick fun stab, nonetheless. 

Next, we're treated to a riff recalling Sabbath's "Children of The Grave" as "Thanks for the Ride Lady" kicks in properly, paying homage to the infamous Creepshow 2 segment of the same name. It's a catchy tongue-in-cheek banger that will instantly become a welcome ear maggot.
Thanks for the Ride, Lady – YouTube
Final track "Trinity of Terror," is not about the 1980s Karen Black vehicle but the 2007 dark comedy Murder Party…. And then it's about the infamous Japanese faux-snuffer Flower of Flesh and Blood — I think?  As to why this was not divided into separate tracks; your guess is as good as mine unless this is meant to be the big wrap-up number that leaves audiences both stoked and drained. 

Murder Party is a fast-burning, straight-forward, end-to-end thrash party, without a lot of variety. But then, that's what playlists are for. You like thrash and horror punk, you'll like this. If Method of Destruction were more about horror movies and less about the, um, poorly-aged subject matter for which they're known, they would be Chainsaw Fight, and I would like them better.

Walid Atshe – vocals 
Vince Pizarro – guitar 
Vic Moya – drums  
Brandon Sledge – bass
Bring it all Down | CHAINSAW FIGHT (bandcamp.com)